The Seminar and Forum on Digital Cities
Introduction 
Since the inception of Multimedia University (MMU) Digital Cities Research Institute (Digital Cities RI) in early April 2018 with a series of workshops, the RI has been actively engaged members and associate members with monthly meetings and discussions internally and externally on the various possible areas on digital cities and smart cities. The scope of smart cities is apparently very current and wide, ranging from the technical aspects of smart and digital techniques and methods with the use of technology, to the knowledge model of smart cities concepts, and the various urban development topics which are equally important. The global goals of the 17 Sustainable Development Goals (SDGs), particularly Goal 11 on "developing sustainable cities and communities" is also a focus interest by the RI.   
By reflecting on my involvement in Digital Cities RI,  I have had the experiences of organising two knowledge sharing or dissemination events with my colleagues in Multimedia University, ie the Seminar of Digital Cities Leadership, Innovation and Sustainability for Societal Wellbeing on 22 November 2018 and also a recent forum on Smart Environment: A challenge for digital cities on 12 July 2019. The forum was organised in collaboration with the Centre for Alumni at MMU. 
These knowledge dissemination events were open to all and free admission, targetting to staffs and students, alumni and public. The responses towards the events were generally positive and well responded by many parties. 
The Seminar of Digital Cities
The Seminar of Digital Cities Leadership, Innovation and Sustainability for Societal Wellbing was set to achieve the objective of sharing the quality of leadership, innovation and sustainability and formulating digital cities' wellbeing, happiness and sustainability framework for Malaysia.
The seminar attracted 130 participants from government, private and public sectors. This seminar invited experienced keynote speakers. They were Prof. Dr. Thomas Menkhoff (Singapore Management University), Mr. Richard Ker (Cyberview Sdn. Bhd.), Mr. Anthony Ng Volunteer (Taiwan Buddhist Tzu Chi Foundation Malaysia), and none other than our own homebased intellect Prof. Dr. Peter Charles Woods (Digital Cities Research Institute Director, Multimedia University). The audiences received so much up-to-date information and thought provoking ideas and concerns related to digital cities. Case studies on the lessons learnt from Singapore, Barcelona, Berlin, and Talinn aspiring to be "smart cities" can be adapted to address innovation as an inclusive process by its citizenry. Prof Peter Woods offered a contemporary definition or criteria of smart city as, "A city which achieves a contented and informed citizenry, engaged with one another, leaving no one behind, driven by a proactive city hall, enabled by dynamic ICT, resulting in happiness". Mr. Richard from Cyberview offered the audience of the latest development of Cyberjaya as a technology hub and efforts of making Cyberjaya as a livable city. Mr Anthony Ng touched many hearts about community engagement especially in dealing with stories of young people who are living in cities with much pressure of their lives. The essential virtues of humanistic values were highlighted by Mr Anthony. Those values are much needed when a city become more developed and materialistic.
The afternoon session of the seminar witnessed a forum moderated by Dr Alan Downe, MMU Research Fellow. The panellists were Mdm. Ezatul Effendee (TM ONE), Ms. Munirah Looi (Brandt International Sdn Bhd), Mr. Ahmad Soalahuddin Al-Thani B. Ahmad Termizi (Setia Haruman Sdn Bhd) and last but not the least Mr. Adlan Azhar (Frost & Sullivan, Asia Pacific). The discussion during this interactive session focused on ways to achieve quality and sustainability in digital cities innovation by concentrating on the three essential ingredients, namely an accessible talent pool with the skills and vision needed to innovate, implement and manage new technologies; the community engagement and acceptance of technological transformation; and finally the high level of integration between platforms, systems and applications with over-arching community development priorities.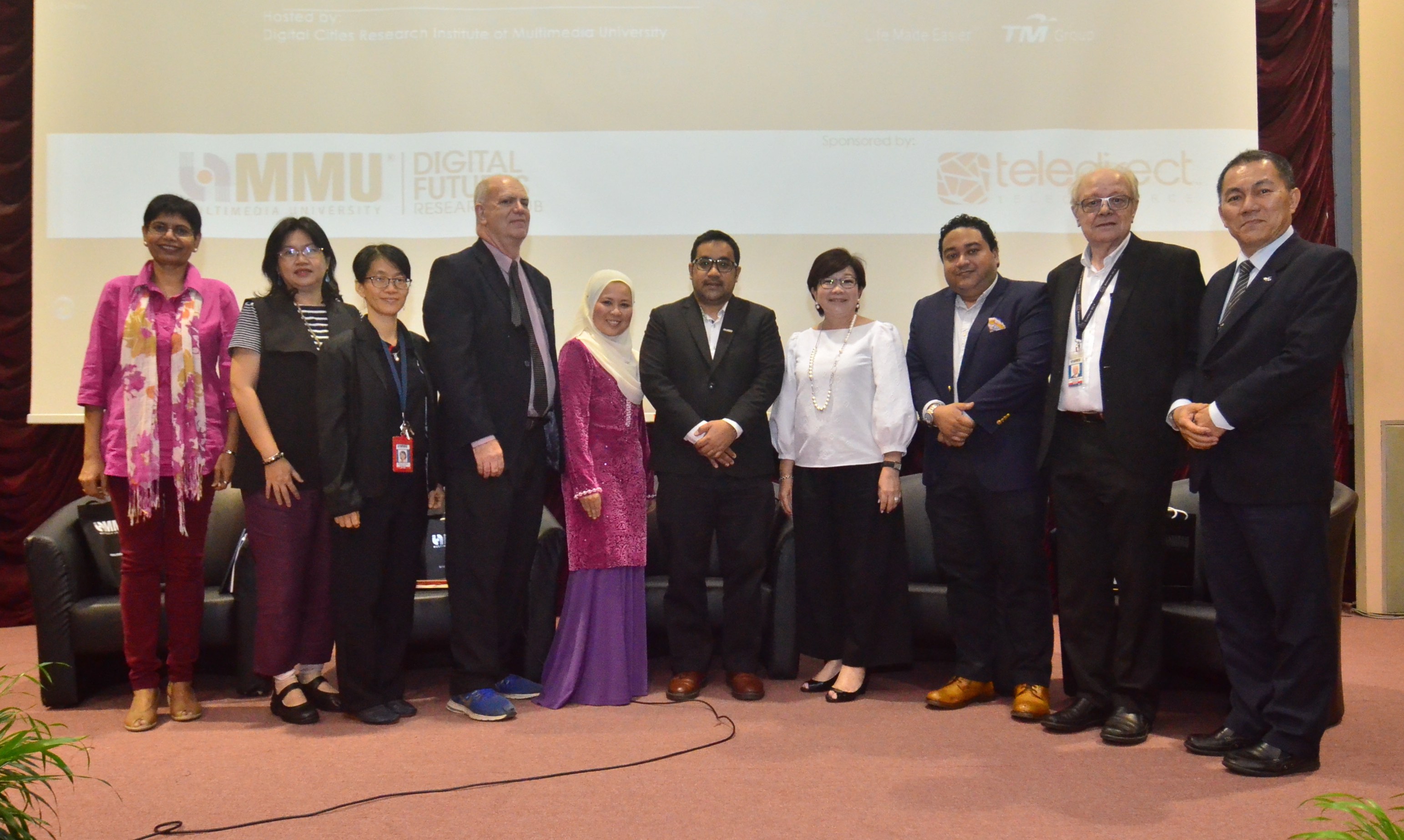 The line-up of experts for the seminar in a group photo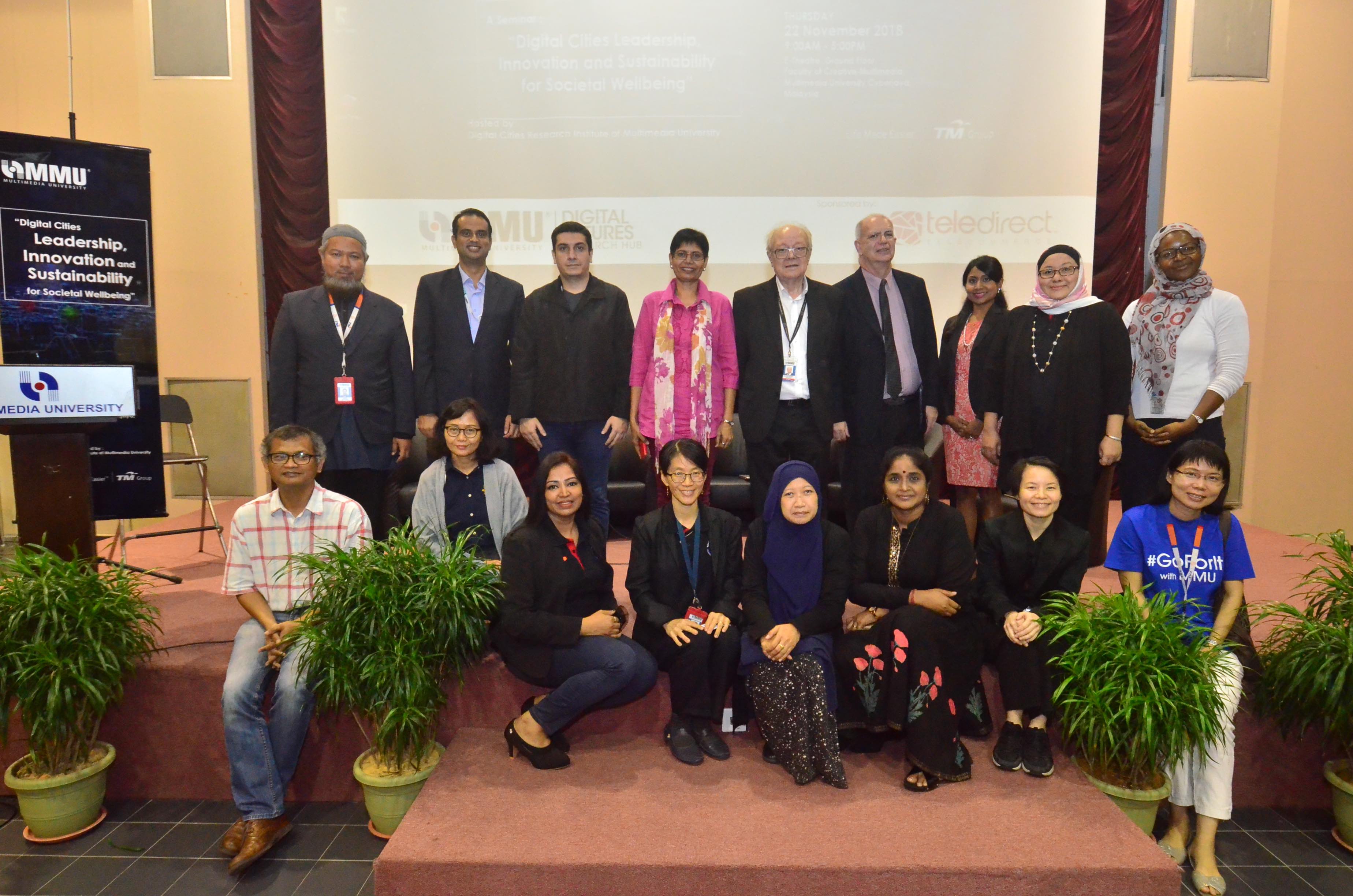 The organising team for the seminar
A recent forum on smart environment for digital cities
Meanwhile on a recent forum of "Smart Environment: A Challenge for Digital Cities", organised on 12 July 2019 morning was a memorable one. This forum was also moderated by the Research Fellow of Digital Cities RI, Dr Alan Downe, with four very distinguished panellists.
They were (with their short biodata):
1) Emeritus Professor Tan Sri Dr Zakri Abdul Hamid. Tan Sri Prof Zakri is currently the Pro-Chancellor of Multimedia University (MMU). He is the former science adviser to the Prime Minister of Malaysia and former director of the United Nations University's Institute of Advanced Studies in Tokyo. 2) Puan Norliza Hashim. Madam Norliza Hashim is the Chief Executive of Urbanice Malaysia, a Centre of Excellence for Urban Wellbeing and Sustainability. Urbanice works spans over four main areas – Knowledge Platforms, Urban Innovation, Applied Research and Development and Projects and Partnerships. 3) Mr Zikry Kholil. Mr Zikry is the co-founder and CCO of Incitement. He is MMU Alumnus; Listed as Forbes 30 Asia in 2016; TEDx Speaker; a social entrepreneur. Zikry founded The Incitement Movement in 2011 with former colleague Daniel de Gruijter, aimed at promoting volunteerism and social impact amongst youths. 4) Prof. Ir. Dr Hin-Yong Wong. Prof. Wong is currently a Professor of the Faculty of Engineering and the Director for the Research Institute of Digital Enterprise. His current research areas in energy conversation include development of energy harvester, AI technology for early fault detection in building electrical appliances, low power lighting source, solar, Lifi communication and precision agriculture. 5) Mr William "West" Follmer. Mr William is a U.S. Diplomat responsible for the environment, science, and technology portfolio within the Economic Section at Embassy Kuala Lumpur. He joined the Foreign Service in 2015 and previously served in Guangzhou, China.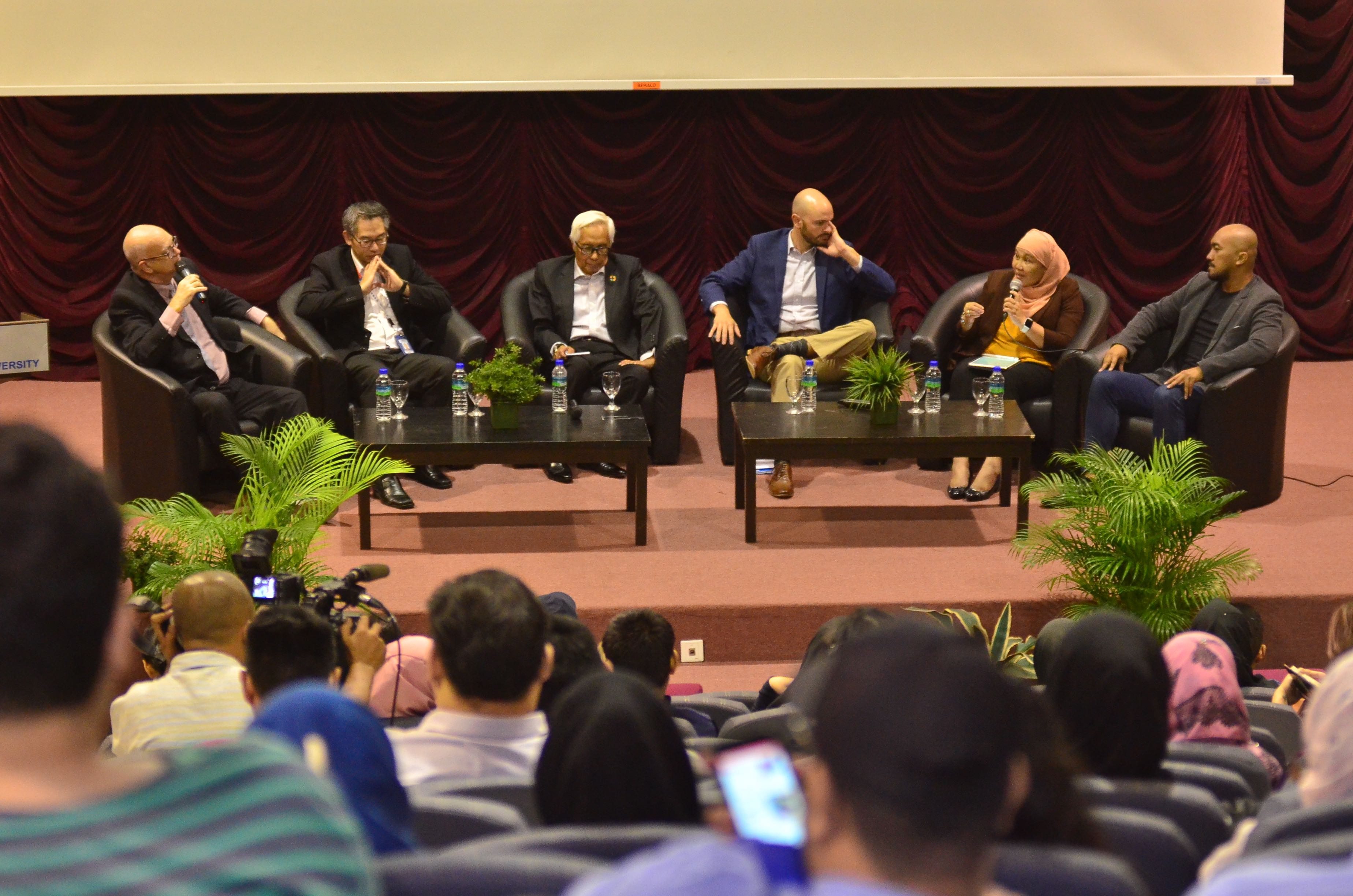 The panellists for the forum, moderated by Dr Alan Downe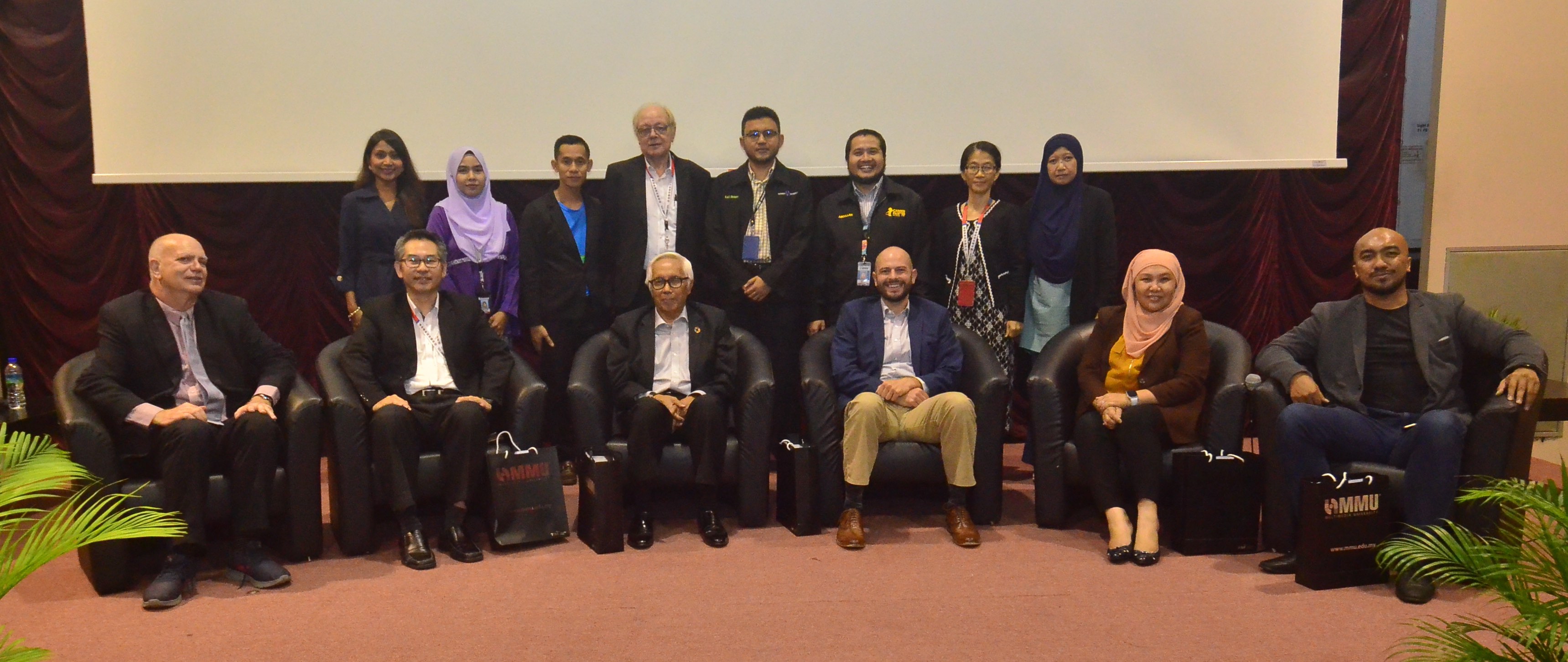 The group photo for the forum
Some highlighted contents of the forum
During the forum, the panellists have highlighted some key points, upon responding to critical questions asked by Dr Alan Downe, the moderator. When they were asked about the biggest challenge faced in smart environment, Tan Sri Zakri mentioned that it is human selfishness and greed, and the mental transformation that cause the degradation of environment. Madam Norliza stressed the right way of using technology is to use it to address the actual needs for the cities and also to communicate this idea to more people. Prof. Wong raised the challenge on health and radiation issue due to 5G technologies, especially when it becomes more pervasive in cities. Mr Zikry agreed with Tan Sri Zakri about the mentality of greed which involved people's activities on technology development; he also stressed the importance of younger people to think more critically for decision making. Mr William highlighted one point that decision makers are to make wiser decision for cities' future plans. They should have a better understanding on how urban spaces interact with environments in the long term.
Most panellists agreed on local players such as city municipals to take charge of environmental awareness and community engagement at locality. Tan Sri Zakri concerned more about biodiversity in cities where the extinction of species has caused the reduction of food supply such as salmon fish etc. Political leaders play an important role in protecting the biodiversity and addressing issue on biodiversity lost. Being an engineer, Prof. Wong reiterated that e-waste separation is a real issue for environment. His thought on sustainable development education should be made compulsory, and education is the solution.
Audiences were curious about what is "smart cities", from where it starts to be "smart"? Madam Norliza responded that the use of cities' resources optimally and based on the actual needs for the city is definitely considered as smart and not to over use them. One good example is water resource which requires proper planning of usage. Some cities mentioned by panellists were Mexico City which overcome their water crisis with effective resource planning, collaboration, governance and policies. Brazil has a city called Curitiba where it is a prosperous, safe and green city. Mostly all panellists agreed that finding a balance of developing mega-cities, especially of what is required for Malaysia. Mr William shared his experiences in the United States, and provided examples that cities in Sillicon Valley and Pittsburgh City have better policies and be given more attentions to local-ecosystem.
Prof. Wong pointed out that energy efficient model is crucial for cities sustainability. As an expert on urban and housing planning, Madam Norliza highlighted future proof housing should be designed for sustainability by designing higher house ceiling to tackle the issue of warmer cities.
Mr Zikri agreed that "check" and "balance" on the return on investment (ROI) is crucial to be equally effective for the local community and the environmental development. Many ICT initiatives at villages have helped the local people, especially women in creating more entrepreneurial activities.
Conclusion of the forum
The Director of Digital Cities Research Institute, Prof. Dr. Peter Woods concluded the forum that many key points brought up by the panellists were more concentrated on "people as the solution" to the environmental issue; there are the negative side of "smart" environment which is often invisible, such as people's greed and ignorance; vast data are collected (ie big data) in cities, however it is still unclear how the data is being for the improvement of cities. 
My experiences as organiser 
By organising both Digital Cities seminar and forum in these two years, I personally gained a lot from the experts. I have the first hand chance to meet and greet the experts (the people) by contacted them for the seminar and forum. Hence, I always remember what they said and emphasised during their talk sessions. The organisation of knowledge events may not be an easy task and it  requires a lot energy, especially when I played a role as the main coordinator. A lot of patience, coordination, communication and time were required the moment when the idea of events were started. Many emails were sent out and required follow-up. Thanks to the team members, MMU management and other divisions who were also very supportive. Now, I am looking forward to contribute to a larger conference that MMU Digital Futures Research Hub is going to organise in next year. It will be a another great knowledge event!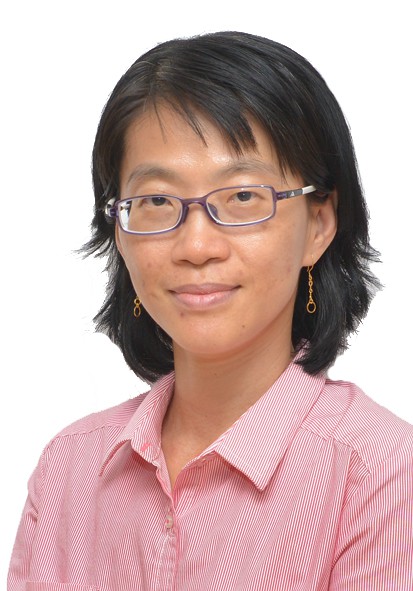 Dr KOO Ah-Choo is currently serving Faculty of Creative Multimedia, Multimedia University. She is also the Deputy Director for Digital Cities Research Institute under Digital Futures Research Hub, Multimedia University.